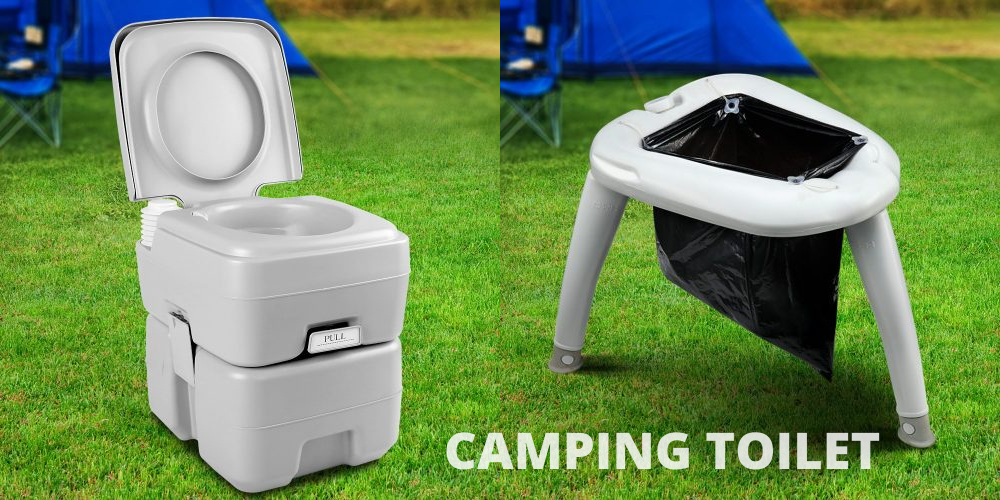 Things to Look For Before Buying Camping Toilet Buying Guide
Beginners to the great outdoors are unlikely to be concerned about a camping toilet. Most likely, you won't even consider it. It's not a good way to start a discussion at a family meal, a party, or a dating night. However, when nature calls, you'll know just how crucial it is. 
For individuals who like to camp away from the crowds or don't want to have to walk across a field in the middle of the night to use the restroom, a camping toilet can be a good purchase. A camping toilet eliminates the need to choose a space based on its proximity to the toilet block, giving you far greater camping freedom.
We've gotten so used to being able to relieve ourselves whenever we need to that we've taken it for granted. And there's nothing more upsetting than a toilet that breaks on you — or worse, under you.
That is why we have chosen to address this vital, albeit distasteful, subject. Hunting, homesteading, off-grid living, and other outdoor pursuits are not always picture-perfect. They nearly never are, in reality. And learning to take care of even the harshest business our bodies engage in is a part of our training.
Should you invest in a Portable Toilet?
If you or your children need to go to the bathroom in the middle of the night, a camping toilet can be a good investment. A camping toilet isn't simply a luxury if you don't want to rough it; it could turn out to be an essential piece of camping equipment, and you'll wonder how you ever got by without it!
 As someone who needs to use the restroom frequently throughout the night and is already a poor sleeper, waking up, leaving the tent, putting on shoes, unzipping the tent, trekking to the toilet block and back 2-3 times a night is inconvenient and causes me to sleep even less than expected. So a camping toilet is essential for someone like me – We couldn't and wouldn't camp without one!
If you want to go camping, you should purchase a camping toilet.

If you do wake up at night unusual to use the toilets

You're camping in a remote or primitive location without access to a toilet.

You should limit your family's use of shared camping toilet facilities for safety reasons.
Various styles of Camping Toilets
However, there are a variety of pop-up and urgent camping toilets available, varying from stool with a zippered bag underneath it to foldable cardboard boxes and chamber pot-style containers. There are only two viable options for family campers.
The simple bucket-style camping toilet is the first option, while the finer, bulkier, and more expensive flushing chemical camping supplies are the second. Several variables will determine the best camping toilet for you.
There are advantages to Consider
Benefits of traditional bucket-style camping toilet
These take up less room and can be used to store items in transportation because they are essentially a bucket with a toilet seat and lid.

They're a lot less heavy than a flushing camping toilet.

You could use chemical toilet liquid in these or use them as a composting toilet with wood chips, but knocking a toilet bucket over may be disastrous because the unit isn't sealed!

They are often inexpensive.

This type of bucket toilet is suitable for light, emergency use at night.
Why do I need toilet chemicals, and what are they?
A specific fluid should be used to flush the camping toilet. A blue fluid is injected into the waste tank to aid in the breakdown of waste, the management of odours, and the reduction of gas build-up.
In the flush tank, a separate liquid, generally pink in colour, is poured into assisting in deodorising and cleaning the bowl after usage.
Only a few campgrounds take green, so double-check first.
Factors to Consider For Camping Toilet
The Size Of The Waste Tank In The Camp toilet
The size of the waste tank is the most crucial consideration. The cheapest and tiniest camping supplies will feature a little waste tank, which may be sufficient for a small family on a short weekend getaway. Still, if enough, a couple of guys will be using it. You'll need one with a larger capacity.
I'd recommend a minimum waste tank size of 20 litres for groups of more than two people or camping vacations lasting more than a weekend.
Chemical Toilet Disposal Sites Are Easily Accessible
Is there a chemical dumping point at the site you intend to visit? Most, but not all, campsites have chemical toilet disposal points, so if your toilet overflows while you're gone, and you can't empty it, you could be in trouble!
Make sure your tank has enough capacity to last the duration of your trip or check to see if the place you've chosen offers a disposal point. Consider how distant the disposal place is; walking with a heavy 20+ litre tank might be difficult, and not all waste tanks are of good enough quality to be transported safely without leaking in the car!
Don't Forget To Obtain The Correct Toilet Chemicals 
Some camping toilet has chemicals, while others do not. Thus we recommend double-checking and purchasing them independently. In most cases, you'll need a pink bowl cleanser for the flush tank and a separate (typically blue) liquid for the waste tank to help eliminate any unpleasant odours.
Keep in mind that toilet chemicals are a little recurring cost to consider while making your purchase.
The Waste Tank's Design
A good camp toilet will allow you to safely disconnect the waste tank, which you should also be able to seal up for a little more money. This allows the unit to be readily moved or carried to the disposal site and transported home.
Buy Portable Camping Toilets From Camping Swag Online
When it comes to camping supplies, Camping swag Online grips your hand and provides you with heavy-duty portable camping toilets. These portable camping toilets are available in different sizes. Go and buy now the best camping supplies from Camping Swag Online.
Subscribe our Newsletter
Subscribe our newsletter for get notification about information discount.